120.07 - Phelps & Ensign's Traveller's Guide and map of the United States Containing the Roads, Distances, Stream Boat and Canal Routes ......, 1843, New York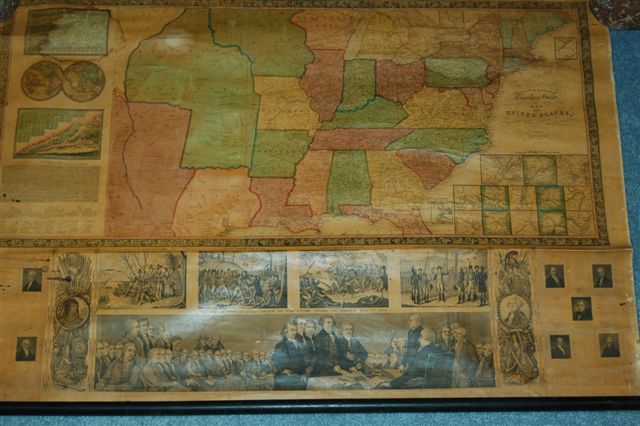 This is a scarce wall map version of Phelps & Ensign's important travelers guide. It portrays the United States as far west as the Rocky Mountains routes for stagecoach, steamboat, canal and railroad routes. Texas is shown as a republic. There are thirteen small inset maps that detail the vicinity of major cities, with two other insets of upper Maine and the Florida Peninsula. At left is a small double hemisphere world map and companion charts of the mountain and rivers of the world. Vignettes include: the Battle of Lexington; the Battle of Bunker Hill; Washington's farewell to his army; and a large center view of the signing of the Declaration of Independence, the text of the Declaration, and portraits of ten presidents. Backed with the original linen the map is still attached to the rollers. The map is rated Very Good [see our rating criteria on the Home Page] with some damp stains noted, minor creases and cracks due to the varnish covering, as was the custom at that time for wall maps. There is a very early ink splatter on the left side border edge extending into the map by 3 cm. The map measures approximately ( 26.0″ x 38.0″ – 66 x 97 cm).
$24.00 shipping / handling / ins. – foreign postage addnl.