120.05 - Preliminary Chart of the York River Virginia from the Entrance to King's Creek ...., 1857, by the U.S. Coast Survey, Washington, D.C.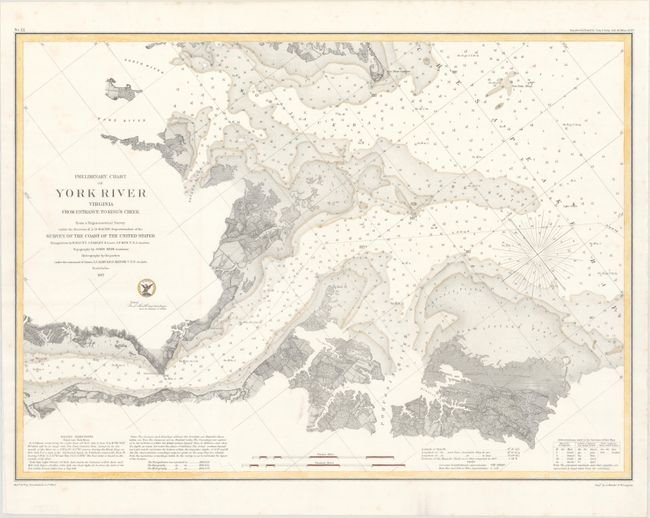 This oldest charting agency of the U.S. Government was first known as the "Survey of the Coast" and in 1836 the name was changed to the U. S. Coast Survey.  In 1878 a network of triangulation stations were added covering the United States, which then changed the name to the U.S. Coast & Geodetic Survey.  Today the organization is part of the National Ocean Service, as the "Office of the Coast Survey",  National Oceanic & Atmospheric Administration (NOAA).
This navigational chart is the first edition and provides both hydrographic and topographic detail from the entrance to the York River as it comes off the Chesapeake Bay.  Water depths are noted as taken by the survey personnel.  The chart is a combination from several sources.  Triangulation by Edmond Blunt, J. Fairly and Lt. J. P. Roy.  Topographic details by John Seib and field work for hydrography by Lt J. J. Almy and R D. Minor.  The Survey ships of that period and field party work was handled by officers of the U. S. Navy and Army on assignment to the U. S. Coast Survey.  The print is rated Excellent (see our rating criteria on the Home Page).  Printed on heavy paper with only minor toning noted.
It measures approximately (22.9″ x 16.6″ – 58.2 x 42.2 cm).