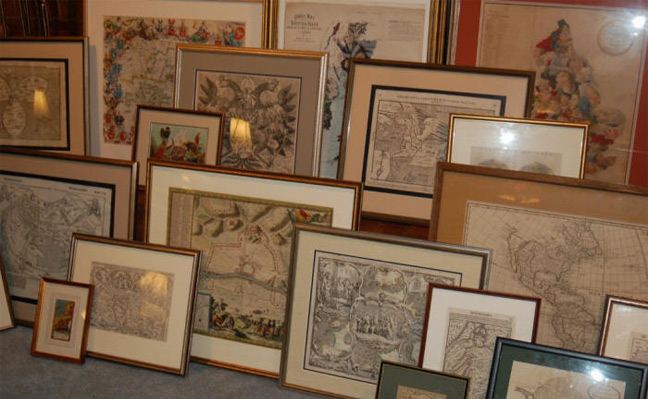 Map, Print, and Globe Information
We will list your antique map, print, or globe on our web site, for up to twelve months, at no cost to you.  Our sales commission (30%) only applies if the item(s) is sold.  To find out more about this service, please email us simply by clicking on map_help@maps-charts.com and providing a description of your item(s) along with a daytime phone number.
Map Descriptions:
Descriptions of antique maps for sale in our website catalog are as complete as possible. Map sizes are mostly in inches and measured to the nearest inch. Many of the items have a full screen photo blow-up. Simply place your cursor on the thumbnail image shown next to each description and click once.
Antique Map Condition Rating System:
Excellent – Minor flaws in the paper texture, considering the age of the item.
Very Good – Some minor flaws noted in the border areas only.
Good – Most areas are in average condition, given the age of the item.
Poor – The item contains major defects in the paper, etc.
Map Appraisals:
We provide certified map appraisals.  The documentation is a legal instrument that serves for insurance coverage and other needs.  The service charge is $50 per map.  To obtain additional information and to schedule an appointment at our Frederick, Maryland location, please use the following email address, map_help@maps-charts.com and provide the title of the map, your name and telephone number. 

"Some, to beautify their halls, parlers, chambers, galleries, studies or libraries with......[collectors] liketh, loveth, getteth, and useth, Maps, Charts, and Geographical Globes"

- John Dee, English map-maker, 1570
"not go where the path may lead ....... go instead where there is not a path and leave a trail."

Ralph Waldo Emerson
History is a dialogue that never ends.
Sign-up for our mailing list to receive updates and newly added maps, prints, globes.
Click on the email link above and in the message portion tell us of your areas of interest.