Braun & Hogenberg
Rare Old & Antique Maps for Sale.
Georg Braun and Franz Hogenberg's Civitates Orbis Terrarum, is recognized as one of the greatest achievements of late 16th and early 17th century European cartography. For the first time, a publication afforded the viewer a comprehensive visual of the major European cities and settlements in an organized and detailed fashion. Published in Cologne, Germany in a series of six volumes, the Civitates was produced between 1588 and 1618 when the final volume was completed. The editions appeared in Latin, German and French issues. Georg Braun [1541-1622] was a canon of Cologne Cathedral and was responsible for the descriptions for each of the plates in the series as well as the introductions for each volume. Braun conceived the idea of the publication and sought the advise of many artists and printers of the time in Europe. Amongst the contributors were Flemish painter and draftsman, Joris Hoefnagel and his son Jakob. Hendrik van Schoel; the surveyor Jacob van Deventer of the Netherlands; the English cartographer William Smith as well as Heinrich Rantzau, to mention a few of the ones involved with the project. Special emphasis should be noted with Joris Hoefnagel [1542-1600] who was one of the most significant contributors to the Civitates.
The engraving and printing of the six volumes fell to the efforts of Franz Hogenberg [1535-1590] and to Simon Novellanus. Hogenberg was a close confident of both Gerard Mercator and Abraham Ortelius and was the engraver used by Ortelius for his Theatrum Orbis Terrarum. Later issues of the volumes were produced from the original copperplates by Dutch surveyor and cartographer Johannes Jansson from 1653. After several exchanges the printing plates were sold at auction and purchased by Frederick de Wit. He then re-worked the plates and published variations under his banner. Others who had some involvement with the series included Pieter van der Aa of Leiden. The prints we offer are either the first or second state of the printings. Most are strong images and in very good condition.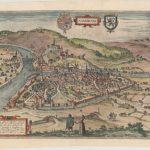 A very detailed bird's – eye view of the town of Namur at the confluence of Sambre and Musse rivers.  The city is seen from the northeast, with the tower…
Read More